FLEXIBLE , FOLDABLE

THIN FILM SOLAR PANEL CHARGER

Thin Solar Panels are made using layers that absorb light. These layers are nearly 350 times smaller than silicon panels thereby making the thin film solar panel very efficient and light. The panels available with us for the Indian market are made using Amorphous Silicon (a-Si) and Copper Indium Gallium Selenide (CIGS). The former is quite durable and is mostly used for consumer electronics and latter on the other hand has high efficiency. These panels can be folded into small book like size which makes it easy and portable. The Thin Film Solar Panels have a lot of use in commercial as well as utility scale installations. This is because these versatile panels work well when used in terms of "economies of scale." Thus, larger systems are more cost effective. Connect with us to know more.

Advantages of a Thin Film Solar Panel:-

The Thin solar panels manufactured in India by Future Technologies have the following advantages:
There is multiple and charging options (Current/Voltage.)
These thin panels can charge batteries with varied voltage within a short duration of time.
A major positive of the Thin Solar Panel is that they are compact in size and are light weight which results to easy handling, portability and comfortable storage.
These are designed such that they are rain proof and can easily be used in a rugged environment like tents, vehicles etc.
One can charge large battery packs as well as multiple devices within a short span of time.
These Thin Film Solar Panels manufactured by Future Technologies India can meet varied field requirements in terms of different voltage, currents etc.
Limitations of the Thin Film Solar Panels :-
Following are the limitations of the Thin Film Solar Panels:
These are suitable for online charging only which means that they can be used during the day when there is sun. Without sun, these offer no charging solutions.
There is no backup storage in the Thin Film Solar Panels therefore; one has to have the device with the charger during the day.
Though the panel itself is rainproof, the accessories and connectors are not. Therefore one needs to handle those with caution.
Thin Film Solar Panel chargers bypass the OEM charger therefore the device might lose its OEM warranty.
The efficiency of the charger depends on the surface on which the panel is placed.
Though it is light weight and portable but when it is unfolded, it requires a decent amount of space.
Contact Us
Future Technologies Inc,
2/43, EPIP Phase-1, Jharmajri, Baddi-174103 Tehsil Nalagarh, Distt Solan, Himachal Pradesh, India
Tel: +91-98789 34922 / 98723 34922 ,
Email: sales@future.net.in


Models available for Thin Film Solar Panels
Solar Panel

Wattage

30

WATT

30 WATT

36 WATT

60 WATT

60 WATT

60 WATT

72 WATT

120 WATT

120 WATT

144 WATT

192 WATT

216 WATT

Model no




FUTURE POWER-30

FT-30/12

FT-36/24

FUTURE POWER-60

FT-60/12

FT-60/24

FT-72/12

FT-120/12

FT-120/24

FT-144/12

FT-192/12

FT-216/12

Solar Panel cell efficiency:




6 %




12-14 %

6 %

12-14 %

Cell Material :

Amorphous Silicon

CIGS

CIGS

Amorphous Silicon

CIGS

CIGS

CIGS

CIGS

CIGS

CIGS

CIGS

CIGS

Solar Panel Weight (approx)

1000 grams

365 grams

430 grams




2000 grams

680 grams




680 grams




800 grams




1150 grams




1170 grams

2340 grams

1500 grams




2200 grams

Max Folded size (mm) (approx)




360 x 220 x 60

255 x 155 x 20

310 x 140 x 20




280 x 225 x 60

340 x 260 x 25

320 x 260 x 25




320 x 350 x 25

260 X 315 x 30




310 X 350 x 40

270 x 320 x 50




320 x 270 x 55




350 x 360 x 60




Unfolded size (mm) (exclude tightening flap)

1190 x 700 x 3 mm




930 x 470 x 3 mm




785 x 620 x 3 mm




1400 x 1100 x 3 mm




1360 x520 x 3 mm

1070 x635 x 3 mm




1400 x 1100 x 3 mm

1365 x 1060 x 3 mm




1640 x 715 x 3 mm




1750 x 935 x 3 mm




2010 x 1060 x 3 mm




1965 x 1075 x 3 mm




Voltage at max power / (VMP)(When connected to load )




18 V

18 V

28 V

18 V

18 V

28 V

18 V

18 V

28 V

18 V

18 V

18 V

Current at Maximum Power (IMP)

1.6 Amp




1.6 Amp

1.3 Amp




3.5 Amp




3.5 Amp

2.5 Amp

4 Amp

6.3 Amp

4.9 Amp

8 Amp




10.75 Amp

12 Amp




Open Circuit Voltage(VOC)When no load connect )




20 V

20 V

32 V

20 V




24 V




32 V




20 V




20 V




3 2V




20 V




20 V




20 V

Short Circuit Current (SCC)

2 Amp




2 Amp




2.8 Amp




4 Amp




4.6 Amp

3.8 Amp

5.2 Amp




8.2 Amp




6.6 Amp




10.5 Amp




13.50 Amp




15.4 Amp




Op. Temp

-25 deg C to 60 deg C

Tested to

MIL 810F & JSS: 55555 , CE CERTIFIED

Protection

Inbuilt protection from reverse current flow over charge, short circuiting

Charging capability with buck-boost charger

3V ~ 22V

3 ~ 24V

3 ~ 24V

3V ~ 22V

3 ~ 24V

3 ~ 32V

3V ~ 24V

3 ~ 32V

3V ~ 24V

Anti reflective coating

NO

YES

NO

YES

Water repellent ETFE

NO

YES

NO

YES

Panel fold test

500 folds

1000

500 folds

Minimum 1000 folds before irregularity is detected)

Colour :

Desert Tan/Woodland Green Camoflouge). (Customized colour also available on bulk requirement)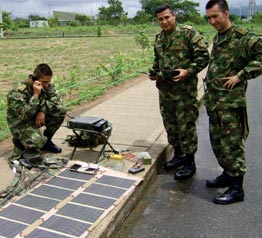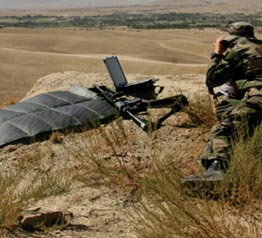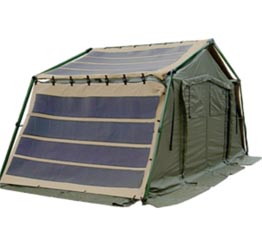 Optional Accessories available with Thin Film Solar Panels