FOLDABLE SOLAR PANEL

CHARGER CUM GENERATOR

Future Technologies offer a Foldable Solar Panel Charger cum Generator which is a combination of Thin Film Solar Panel and battery bank. It comes with a stand so that one can comfortably use the panel for optimised charging. These are best suited for dry environment. These are light weight yet durable.

Advantages of Foldable Solar Panel Charger cum Generator :-
The Foldable Solar Panel charger cum generator manufactured by Future Technologies India is suitable for online as well as offline charging.
One can charge the device directly through the solar panel during the day or in case the device is not available then the battery bank can be charged which can be used later as well.
The equipment is rainproof therefore can comfortably be used in the outdoors.
An important advantage of the Solar Panel is that it offers fast online charging.
The charger does not by pass the OEM charger during offline charging therefore one can secure the OEM warranty.
There are multiple wattage and charging options, while it can charge batteries with varied voltage as well as capacity.
The Foldable Solar Panel charger cum generator manufactured for India by us has a high cell efficiency which can be achieved to its optimum at 30 degrees.
It is easy to carry and does not require much space. The set up for the panel does not take long either. The charger can be mounted on tents as well as vehicles quite easily.
The Foldable Solar Panel Charger cum Generator comes with a light weight portable universal kit which comes with accessories.
The solar panel is suitable both for charging small equipment as well as for charging large multiple devices and large battery packs with heavy current requirements along with high voltage batteries.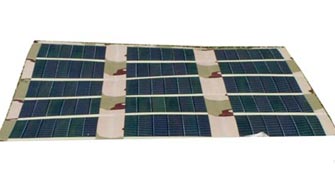 Technology used :-CIGS. It has foldable thin Film which makes it flexible.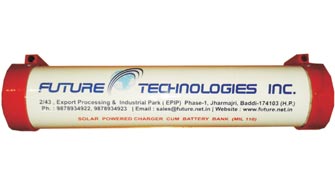 Tube Body : Encapsulated tube/plastic body with battery, connectors & display integrated inside. It is a compact single unit which is portable.
Battery • Technology - Lithium polymer (Indl Grade) • LiFePO4 - In-built Protection from short circuit, over charging, low battery, deep discharge etc.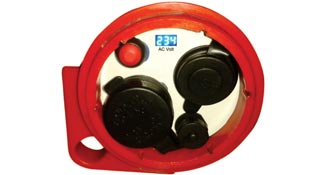 Output :
12V : Suitable for charging/operating medical devices, laptop, HHTI, Walkie-talkie, Sat phone etc working at 110V / 220V.
5V :(constant)(Upto 2.5 amp) x 2 no's to Charge iPad, mobiles, batteries.
AC Voltage output Display : Output from DC-AC convertor ensures AC output voltage display (from 0 V to 300 V.) Under charging of sensitive equipment can always be checked for correct output voltage and quality to prevent damage.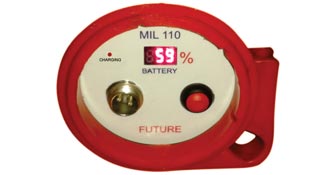 Input : One input socket to charge equipment from AC /DC source LED Charging indication.
Battery status % : Clear & simple indication of battery charged/used avoids last minute surprises. This is an important when the charger is being used in field so as to optimize and prioritize the energy usage.
Contact Us
Future Technologies Inc, 2/43,
EPIP Phase-1, Jharmajri, Baddi-174103 Tehsil Nalagarh, Distt Solan, Himachal Pradesh, India
Tel: +91- 98789 34922 / 98723 34922 ,
Email: sales@future.net.in