ROLLABLE SOLAR PANEL

CHARGER CUM GENERATOR

Future Technologies Inc is an ISO 9001:2008 certified manufacturer of equipments for defence and professional industry.

Rollable Solar Panel offered by Future Technologies is compact as well as flexible. It is built such that the equipment such that it can withstand rugged and outdoorsy handling. The Rollable solar panel offered by us in India is a charger as well as a generator. It is versatile, durable and portable. The panel comes with a high power battery bank that has a charge controller interface while it also offers you multiple connectors as optional.
Each rollable solar panel charger cum generator can be rolled around the battery tube with input – output interface. Once it is rolled, it can then be carried securely and comfortably. Apart from the comfort of carrying it, the rollable solar panel is easy to set up as well. The panel offered by us for the Indian market takes just a few minutes to set up.
The material used to construct the rollable solar panel is such that it allows the panel to fold like a sleeping bag. It is made using eco-friendly materials that allow flexibility and make it eco-friendly as well.

Usage of Rollable Solar Panel:-

It can be used as a source of energy for:
Camp Light, Light Bulb, Medical Devices, Pumps, Almost all Electrical & Electronic devices
For charging and powering Laptop, Radio Sets, GPS, Smartphone, Walkie-Talkie handsets, Mobile & Satellite phones, communication system RS Motorola, HHTI, RS Stars V, RS Tadiran, HX Tadiram, Star VMk-I/II (25W), AA / AAA / 9V cells, flash lights, hhsl, almost all Electrical & Electronic device etc.
For charging batteries and battery packs made of Li-ion, Ni-CD, Ni-Mh, Lead acid etc.
Model No.
Battery Capacity
Solar Panel
Weight
Mil-105
12V 6Ah
10 Watt
2.4 Kg
Mil-110
12V 9Ah
20 Watt
3.3 Kgs
Mil-115
12V 10Ah
20 Watt
3.5 Kgs
Customized Solution Also Available
Online as well as Offline Charging is possible.
Devices can be charged directly using the panel.
Even if the device is not available during the day, one can charge the battery bank using the solar panel which can then be used to charge the device at a later point in time.
The rollable solar panel offered by us in India is waterproof and shockproof so that ti can be used in rugged conditions inside as well as when one is outdoors.
Since the OEM charge is not by passed, therefore no device loses its OEM warranty.
The device is designed such that the panel is at 30degrees angle which ensures highest efficiency.
It is easy to install and use.
It can be used to charge batteries up to 100Vah.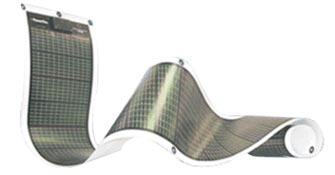 Technology UsedCIGS/Amorphous silicon, Flexible rollable thin film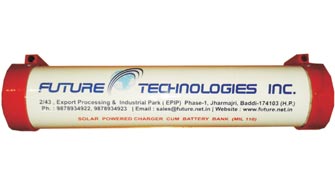 Tube Body : Encapsulated tube / plastic body having all battery, connectors & display integrated inside. Its compact, integrated in one unit , man portable.
Battery • Technology : Lithium polymer (Indl Grade) LiFePO4 • In-built Protection from short circuit, over charging, low battery, deep discharge etc.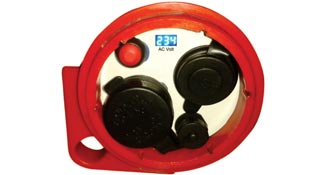 Output :
12V :Suitable for charging/operating all medical devices, laptop, HHTI, Walkie-talkie, Sat phone etc. that work at 110V / 220V.
5V (constant)(upto 2.5 amp) x 2 no's to Charge iPad, mobiles, batteries.
AC Voltage output Display :Output from DC-AC convertor ensures AC output voltage display (from 0 V to 300 V.) Sensitive equipment so that under charging can always be checked for correct output voltage and quality to prevent its damage.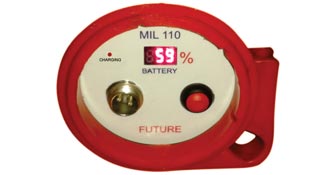 Input : One input socket to charge equipment from AC /DC source, LED Charging indication.
Battery status % :Clear & simple indication of battery charged/used so as to avoid last minute surprises. Helps optimize and prioritize the energy usage.
Standard Accessories for Rollable Solar Panels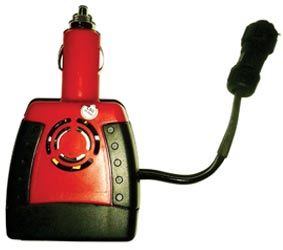 DC-AC Adopter
(9 V ‒ 16 V) to 110/220 V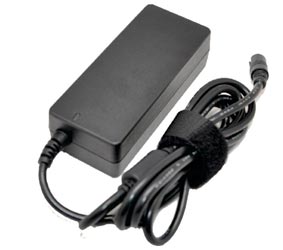 Universal AC Charger
(input 70V to 270 V , 50-60 Hz )
Optional Accessories for Rollable Solar Panels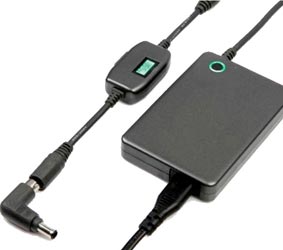 12V DC to 24V DC Booster
(with multi-pins )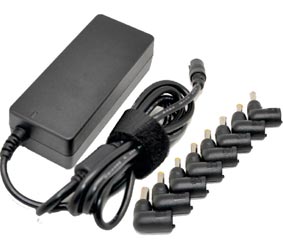 Universal Laptop Charger
(with multi-pins )